2

min read
|通过Gintas Bradunas和Jennifer兰德|
Let the countdown begin! On Friday, May 29, 2020,Gale Kids InfoBitswill receive product enhancements and becomeGale In Context: Elementary. These product enhancements are designed to increase access to library resources and have a greater impact on user success, both in the classroom and online.
The updated product name—Gale In Context: Elementary—reflects Gale's commitment toward supporting the full progression of a student as they develop their research abilities. It also empowers educators with additional clarity around which product best fits the needs of their students.
In addition to an updated product name,Gale Kids InfoBits还将获得以下产品增强功能:
Kid-Friendly Interface


完全重新设计的用户体验,专为通过一个可视化的话题树鼓励探索青年学生创建的。



Topic Pages

(previously known as portals)
Topic pages provide students with short, age-appropriate summaries for topics and organize resources for easy use in research projects.



拉平内容


拉平主题概述提供相同的概述既是一个基本的和高级版用户,让教育工作者因材施教。



I Wonder . . .


我想知道的问题搞的年轻用户的好奇心,吸引他们到主题。不断更新,在主页上的我不知道问题鼓励每天的探索。



丰富的内容


Search through over 16,600 indexed images, 600 videos, and 1,700 charts and graphs.



Powerful Platform


The migration to a new proprietary platform will allow users to:




由蓝思范围搜索或基于初级,中级或高级的学习水平,以支持差异化学习方式查找内容。



使用ReadSpeaker文本到语音技术和按需的文章翻译成20多种语言,在屏幕上,朗读。





使用要点和注意事项功能注释并跟踪他们的问题和想法。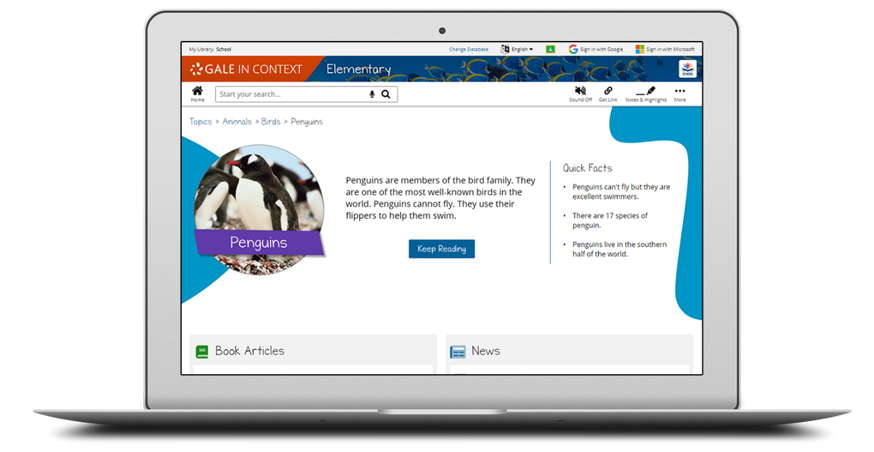 Training and support materials will be available in the coming months to help make this a smooth transition for libraries. Stay tuned for more information!