4

min read
| Lemma Shomali, Director, K-12 Products |
"Work smarter, not harder."Easier said than done, in most cases. Sometimes, we only realize we could have worked smarter after we've already worked pretty hard – leaving us feeling frustrated and thinking:"If I knew then what I know now, I would have…"
As a partner to schools across the nation, Gale has been observing educators working harder and harder to: keep up with the changing curriculum, leverage technology as an instructional tool, personalize learning for students…the list is endless. From superintendent to department head to librarians and classroom teachers, members of the school community are aligned to one constant, united around a single goal: drive student achievement and prepare youth for college and career readiness.
Gale shares that very same goal, and over the last nine months, we've been buildingGale In Context: For Educators, a new product that will help school districts work smarter and not harder. This new resource makes it easy for educators to curate classroom curriculum aligned to state and national standards using instructional materials and essential content from theirGale In Contextdatabases. We know educators are the number one influencer of what gets used in the classroom, so havingFor Educatorsmeans that students will be more exposed to that rich, engaging content that will help support their academic success.

Checkout this video for a sneak peek ofGale In Context: For Educators:
There's no shorter path to working smarter than collaboration. In fact, inCoSN's 2019 K-12 IT Leadership Survey Report, respondents ranked breaking down silos within a district in their top three challenges. Imagine this scenario: A school district has recently decided to forego a new textbook adoption. Instead, they will use their existing books and supplement them with digital content. Over the next few years, their intent is to be completely digital. Now each department is looking for new materials to enhance their curriculum. Teachers are overwhelmed with the amount of information on the open web – unsure about its authority or efficacy, unable to spend time rebuilding a lesson and uncertain of whether they can meet the curriculum standards. Some teachers who are new to their craft don't even know where to begin. Others may already have a basic curriculum in place and know exactly what they're after. Meanwhile, just down the hall, the school librarian is sitting on a treasure trove of content. Though teachers and students use the library for sporadic projects and research, the librarian knows that there's much more the library can bring to the table. Sound familiar?
For Educatorsleverages content fromGale In Contextdatabases, making it the "secret sauce" for collaboration between the library and the classroom. However, it's also uniquely designed for classroom teachers, with additional content and tools to make it easier and faster to find curriculum aligned content, curate it for the classroom and educate students. Educators can work independently, share their planning with others or work collaboratively to build classroom resources. WhileGale In Contextincludes a wealth of informational text, primary sources, video, audio and more,For Educatorsincludes the lesson plans, activities and tools to bring it all together in a rich classroom environment, engaging students and getting one step close to academic success.
WithFor Educators, Gale's history in information publishing and aggregation for libraries can extend directly into the classroom to support key initiatives like going digital and differentiating learning. We can help foster collaboration across the district. Be a partner in student success. Help you work smarter not harder!
To learn more, visit theGale In Context: For Educatorswebpageor view thevideo! And, stay tuned for more info on the product launch this Fall!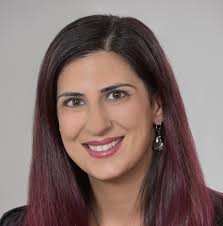 About the Author
Lemma Shomali is Director of K-12 products at Gale and has more than 15 years' experience developing and managing EdTech products in the K-12 library market. When she needs a break from the fast paced world of educational technology, you can find her at the nearest CrossFit class, whipping up cookies for friends and family, or playing endless boardgames with her two sweet daughters.